About Text Twist 2
Educational video games have revolutionized throughout these years and have contributed to both learning and enjoyment. Text twist 2 is one of the most awesome games ever made very distinctively. Text twist 2 is a spelling game in which players are supposed to determine new words with the letters provided. Text twist two explicitly tests your knowledge of words and is student friendly. It allows students to learn new words and provides the fun. Time rounds are available, and the player is dependent on choosing whether they want to play in time mode or not.
Text Twist 2 Gameplay
The gameplay is quite simple, and the game runs very smoothly, which is why this game is liked worldwide. The gameplay can be comprehended as the players are supposed to discover new words within some time limit.
Each level gets harder and trickier but interesting at the same time. You'll be amazed at how many words you can make with a small selection of words. And the time limit will help students exhibit the skills of time management. The game also has a "twist" option in which the letters can be moved from one position to another to get an idea in a state of confusion.
Text Twist 2 Game Online Features
Education-oriented: Text Twist 2 is exclusively a video game filled with vocabulary and word stock. The player needs excellent visualization and understanding skills while playing the game to overcome difficult levels. Known term vocabulary is much needed while playing this game, the player should be aware of some of the most commonly used words and also some complex ones.
Challenging: Text twist 2 can be quite challenging for many people, especially beginners who are unaware of the game's strategies. The game has a wide variety of simple and complex words that balance out the ratio.
Trouble-free: This game is very easy to play and requires less effort in function. It would be acceptable to say that this game is effortless.
Student-friendly: This game is incredibly designed exclusively for students and children who are looking forward to polishing their vocabulary skills.
Decent theme: As for the graphics of this game, then the colours are not itchy at all, and the whole game is based on the light blue theme and is very basic and decent, which gives it a look of an educational video game.
Addictive: This game is most likely to be considered addictive in a positive dimension because of its unique and appealing features.
Time and no-time version: The game is available in both versions. It is suggested for beginners to use the no-time version at first to get an overview and explore the game more deeply, and then they can get started with the time version.
Modes: Another fascinating feature that this game offers is the availability of a bunch of modes which creates more excitement in players' minds to play it repeatedly. Modes include Lightning mode, Crossword mode, Untimed mode, Word of the day mode and Classic mode.
Fun learning environment: Even though this game is education-oriented, it never fails to create a fun learning environment and is raved about so so many times by experts too in order to improve skills in spelling and vocabulary.
Text Twist 2 Game Screenshots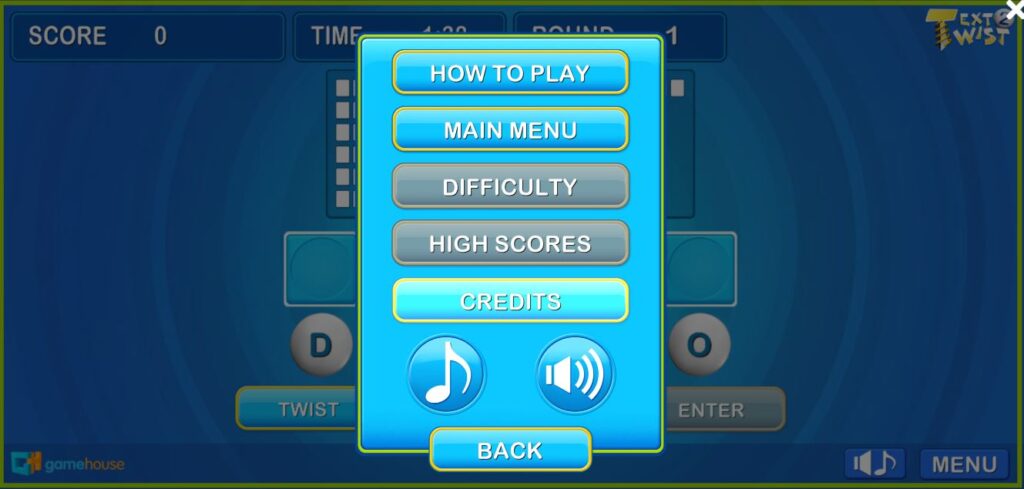 Pros and Cons
Pros
Easy and free to use.
Develops better understanding skills.
Family-friendly game.
Improves English Language skills.
Education-oriented and filled with learning content.
Decent theme.
Quite challenging but serves as a source to sharpen one's language skills.
Extensive availability of both tricky and easy words that balance out the ratio.
Gives a fun learning environment and polishes your potential of speaking/reading/writing/listening to the English language.
Cons
Players might feel like the game is old.
Final Words
We've cited down a fair amount of information and precise details regarding this game. As far as my opinion is concerned, then I cannot praise this game enough; Text Twist 2 is a perfect mix of learning. And enjoyment in every perspective. There are thousands of words that can be extracted by rearranging jumbled letters.
There are countless benefits that one can gain by playing this game. It promotes learning in a fun environment and enhances their academic skills. In essence, every individual should experience the amazing features this game offers and it's guaranteed that you will not regret playing it.