How to play Outspell Word Game Online
Puzzle games are one of the most played games categories across the globe and people of all ages love to solve puzzles over time, there have been many changes in puzzle games and tons of new categories within the puzzle games have been introduced brain teasers, IQ testing games, word puzzles, Spelling Games and many many more. Today We will be talking about a new and super fun game in the word spelling category that has got tons of love and attention from gamers around the world, which is "OUTSPELL".
Outspell Game Unblocked
Outspell is a word-spelling puzzle game that at first might look like just another ordinary Scrabble game, but it takes the Scrabble puzzle game to a much higher level with a bunch of exciting twists and turns that make the game much more enjoyable than the other words puzzle games out there on the internet. It tests your knowledge and strategic thinking along with your puzzle-solving skills as it pushes the limit of your vocabulary in order to find the words of the greatest value.
The player gets some tiles in the start with random alphabets and they have to place them across the board, which also has some score multiplier tiles on it in order to get the most score, you need to come up with the most valuable and meaningful word to get much higher score points.
Outspell helps you enhance and polish your vocabulary knowledge and develop puzzle-solving skills. So you can do some positive exercise for your brain while having a lot of fun in the process.
Outspell Game Features
Modes: As soon as you open the application, you will come across specific modes to play including easy, medium, hard, and practice modes. I would suggest playing the practice mode initially since practice makes everything better.
Challenging: With a wide variety of words, Outspell is challenging at the same time. With each mode, it gets more complex and tricky.
Interesting: Outspell is an exciting game and will never get you in a state of boredom. There is always something new to learn on the outspell.
Dictionary: One of the most outstanding features that Outspell offers is the availability of a dictionary. The dictionary includes countless words, and as you type the letter, it will show you the relevant matches that might help you solve the puzzle. Always rely on a dictionary when you cannot think of the word that can be made with your existing tiles.
Easy to use: Outspell is relatively easy and convenient compared to other word puzzle games.
Shuffle: If you get confused, try using the "shuffle" option. The existing tiles are moved here and there to give the player an idea of the word. Many times, the answer is hidden in the shuffle mode. You have to shuffle them 3 to 4 times, and there you have it!
Exchange: When you are stuck and can't think of any word that could be possible, you can exchange the existing tiles with new ones.
Bonus cells: This is one of the most outstanding and creative features that Outspell offers, referred to as "bonus cells." Bonus cells are placed all over the board and is a great way to score more than your opponent. Bonus cells are basically scored multipliers available in red and blue colors.
Red bonus cells are for a triple word score means it will multiply the original score by
Blue bonus cells are square word scores means it will bear the original score by
Try utilizing these cells as much as possible to score maximum.
Outspell Game Rules 🎮
Rule #1 Firstly, select the mode you want to play between easy, medium, and hard. In order to get an overview of how the game operates, choose "practice mode."
Rule #2 After selecting the mode, you will be given a few letters written on the tiles. You're supposed to use those existing letters and arrange them in the best possible order. This can be done vertically and horizontally, but make sure it is an acceptable word. Try your best to utilize red and blue cells to expand your score and achieve a win against the opponent.
Rule #3 Then, the computer will turn to make a word from the letters given to it from the "bag." Word is made so that it includes one of your letters adjacent to it.
Rule #4 This whole process goes on and ends when all of the tiles have been used from both players' bags. The player who obtains the maximum score wins the match.
Just like any other puzzle game, Outspell is very easy to play with all the instructions that are already displayed for you on the screen, So in order to get things going here are the very simple steps that you need to follow.
⚡ First, you need to set the difficulty level for your game.
⚡ You get some tiles with random letters on them which you need to put on the tile board to make your words, different letter tiles hold a certain amount of value that you can use to score more points.
⚡ And the board also has some score multiplier spaces on it which you can use to make your letters and words score more.
⚡ And as the game progresses if you run out of words to make from the letters that are left, you can always exchange those letters with letters that are available in the bag. (Yes, you get a bag full of letters too)
⚡ Also, there is a dictionary tool available to check if the word really exists or not. Cool Right?
⚡ And finally, once you have come up with a word of your own, you can hit the submit button and the computer will then make a word off of it.
⚡ So now you know everything you need to know to start playing Outspell and have fun.
Outspell Game Screenshots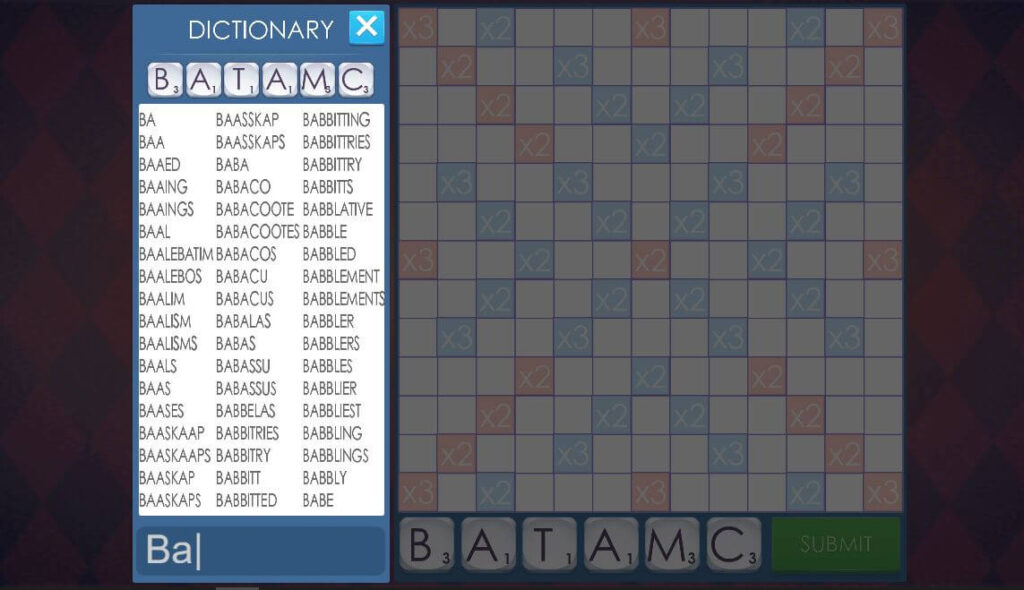 More about the OutSpell Game
Outspell Game was released in the year of 2016 by the publisher, Arkadium Games, in the puzzle game category. Soon after its release, it became one of the most popular online puzzle games of all time drawing in millions of puzzle game lovers from all around the globe.
As the world of puzzle games is becoming more and more logically difficult to pass through, the player's expectations keep rising with it, So Outspell used the combination of classic word puzzle games and a very unique idea of their own to rise up with the ever-growing puzzle gaming industry and that's what the puzzle solvers love about a game, the way of a game to mesmerize the player into its own world. And if you are a puzzle lover then I must say you have come to the right place to play Outspell online.
Last updated: November 24, 2023