What is Scrabble Blast?
Almost every teenager is very keen to experience the latest games. No matter how costly the game is, one will never leave a chance to play it if it's trendy. Games carry an "out of this world" feeling. If we look back in time, we would realize how the older generation was very passionate about board games. Computer games are spectacular, but board games are very unique and require one to put their 100 percent effort to play.
Reflecting in time we have usually heard from our elders that "board games are mind games and it tells how your brain functions". In the 21st century, we can hardly find board games in our nearest supermarkets, but we've come across a board game designed in such a way that can be played on your phones, computers, and even PC. Today, we'll be giving a brief breakdown of the "Scrabble blast".
I'm sure we've all heard about scrabble board games and the popularity they held in old times. If you're not familiar with scrabble games then they are board games filled with alphabets and players are required to find various hidden words that are present on the board. There are countless benefits of scrabble games and the list never ends.
More About Scrabble Blast
Scrabble Blast is an online scrabble game in which the players are required to find various hidden words using their brains and score as many points as they can. The most essential thing about this game is simplicity and universal appeal. Scrabble games were played across the world which makes this game even more iconic to experiment. Numerous features make this game so much appealing and likable. Scrabble blast is a holy grail and should be played by everyone because of the amazing features it offers. Let's have a look at its features.
Features of Scrabble Blast
Family-friendly: Scrabble blast is an ultimate family-friendly game that will have everybody play all night long without having to worry about triggered content.
Educational: Since it's all about finding words and having to learn new words, Scrabble blast helps children improve their vocabulary and polishes English language skills.
Brainstorming: Scrabble blast encourages players to think without interruption in order to solve the puzzle. While playing the game, you will notice how it helps in evaluating and analyzing the method of brainstorming to find new words.
Hints: Hints are given for proper guidance when you're stuck and can't find any word. Hints are lifesaving and save so much time which is one of the reasons players route towards this game.
High-quality: Scrabble blast is designed in a way to provide players the best quality. The game is adapted to work in all modern web browsers.
No downloading: You are not supposed to download this game and can easily play it online.
No storage consumed: Scrabble blast is an online game and doesn't take up your device's storage.
Easy to play: If you are a beginner then you won't face any hindrance in playing the game.
Instructional: Scrabble blast is filled with vocabulary and the best thing about this game is that everything displayed is so easy to use and instructions are given for beginners to play.
Fast-paced: The following game is based on time which makes it more challenging. You're given a concise time limit to determine words hidden on the board. You're often left with less time and couldn't complete the tasks scoring zero. If you think you can find hidden words in less span of time then scrabble blast is a perfect platform to test your skills.
Exchange: Letters on the board can also be switched in situations when it's tricky to work on the board.
Bombs: While solving the puzzles, you might come across some bombs. Beware of the bombs since they can explode if you don't defuse them by putting a minimum length word on the board.
PROS AND CONS
PROS
Easy to play
Convenient
Boards can be exchanged
Family-friendly
Educational
Doesn't lag at all
High-quality game
Availability of hints
Doesn't take up space
Fully optimized online game
Instructional
CONS
Game is a bit old
Time-limited game
Bombs
Scrabble Blast Game Screenshots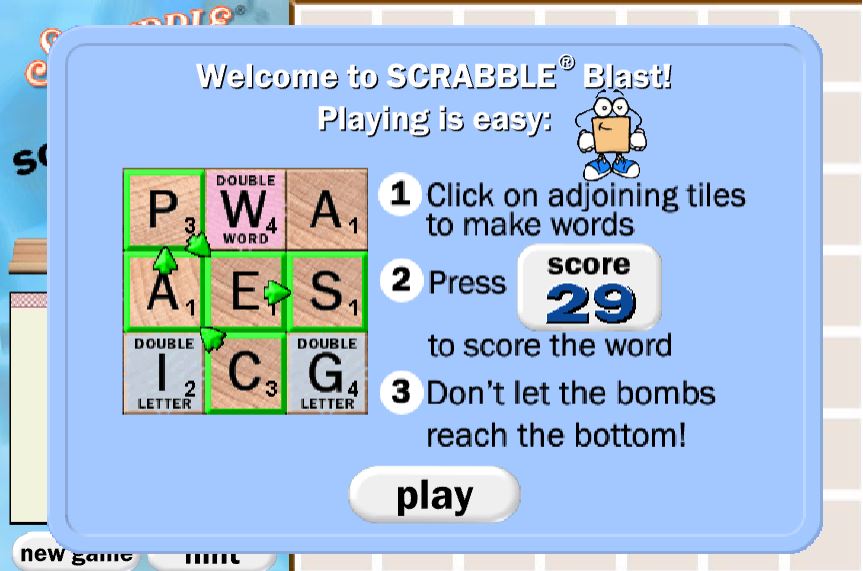 Frequently Asked Questions
Why Kids Should Play Scrabble Blast?
Considering scrabble blast have so many advantages makes it perfect and essential for children to play and most importantly it will improve their English language skills and will testify them to let them know where they stand.
Is Scrabble Blast Hard to Play?
It may seem that Scrabble blast is hard to play but actually, IT IS NOT. It may take you some more time to acknowledge how this game is played but it's all about how much vocabulary you know and how good you are at building new words.
Are Graphics in Scrabble Blast Very Good?
In order to find an authentic answer to this question, you have to play it first. If I'm talking about my experience then this game is not too well-designed because it is an old game but the features make this game eye-catching. It stands in between classy and modern.
Is Scrabble Blast Available On Playstore / Apple Store?
No. Currently, it is not available on both of these applications but the APK link of this game that we've provided gives you an amazing ride to this game without any limitations.

Conclusion
To sum up, we've reviewed the game quite fairly and we would recommend everyone to play this game at least once and enjoy the features it offers. With the availability of pros and cons in this article, It is correct to say that this game is so fun and can entertain you no matter what. It improves one's vocabulary and enhances their skills in the English language. Do not wait play Scrabble blast onlne.